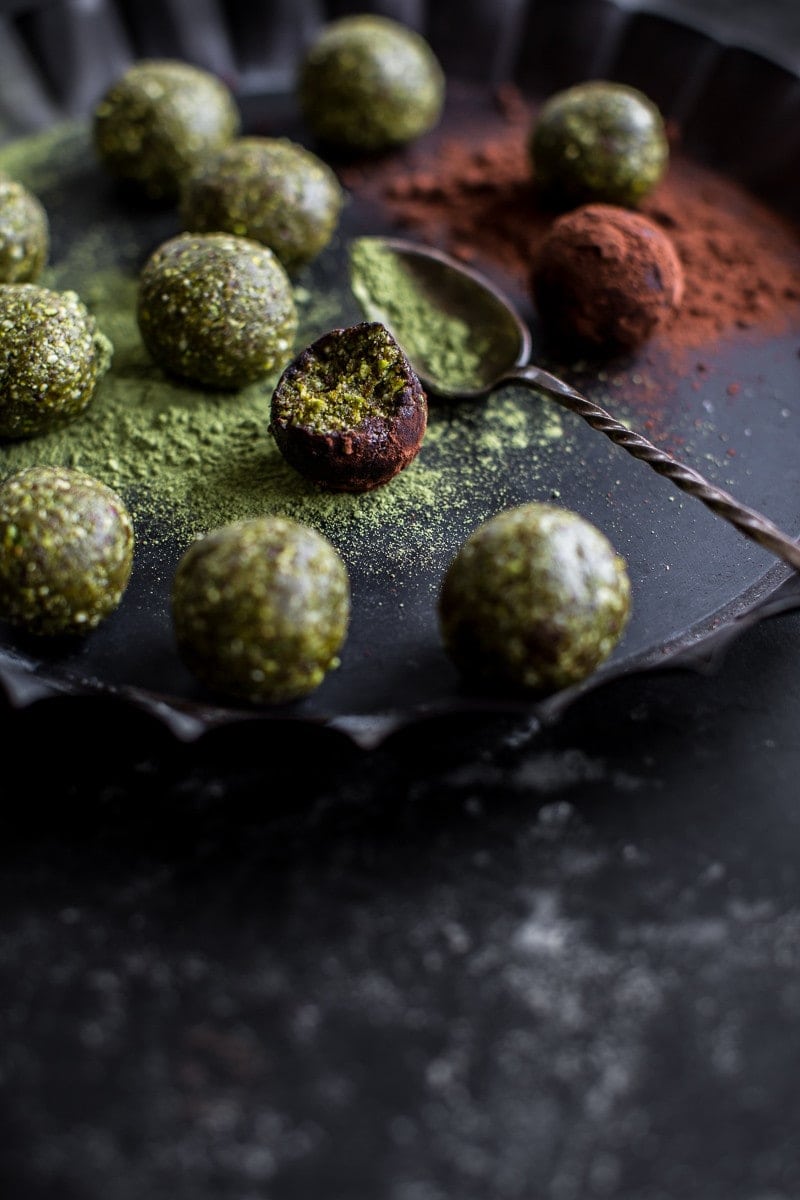 There can never be too much a of a good thing. Like a daily good habit or a beautiful song on repeat. Like a weekly family ritual that never grows old, like a trusty old recipe that uplifts your soul. It is knowing these good things and collecting them as you go about your daily life that makes life itself more worthwhile. I have a trusty old recipe, a delicious nut cake full of energy and vitality that gets baked in my kitchen regularly. Like a good thing on repeat. So I took that good thing and made another good thing out of it. The famous Flourless Pistachio Cake became the inspiration for these delightfully green raw Pistachio Matcha Snack Balls.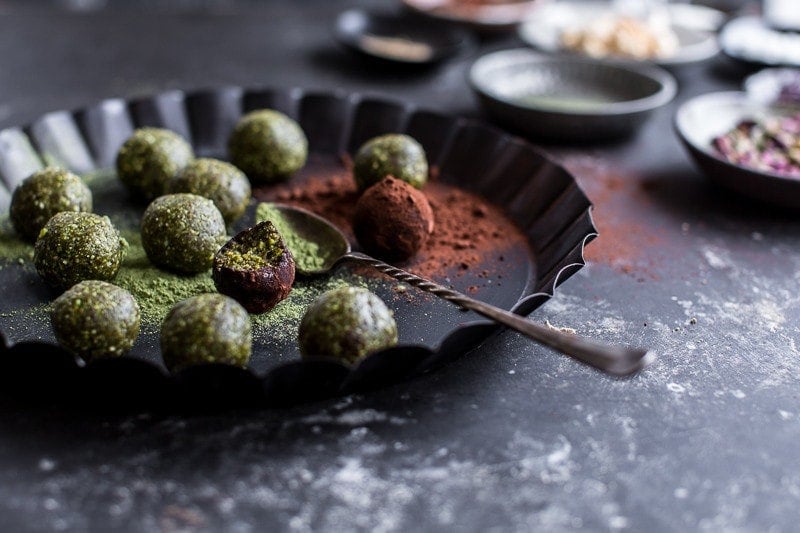 See, I have never been an early morning or even mid morning breakfast person. A cup of coffee has always lasted me for a couple of hours until I feel the need to eat something (bad habit, I know!). But starting your day two hours earlier (thank you high school kid!) means your body starts growling and protesting when it doesn't get food. I was starting to feel the need to pop something in my mouth along with my cup of coffee while I went about making hot breakfast for the big boys and packing three separate lunch boxes. After making this bliss ball and popping it in my mouth while I scrambled eggs and pan tossed mushrooms for a week, I worked on creating some new recipes for delicious and not-very sweet (the way I like it!) energy balls.
If you read the story of the flourless pistachio cake, you will understand that the cake was a result of a quest (most recipes on this blog are! A quest!) to re-create a nutty, chewy, raw cookie I bought at a local market. It was very close to what I ate at the markets, but not quite the same. But was it good .. oh my goodness, was it ever! It quickly became most popular cake recipes on the blog in recent times and has been shared on Pinterest over 30K times. So that became the inspiration for my first snack ball recipe and with these raw bites, I think I finally achieved what I was trying to since eating that pistachio cookie at the markets.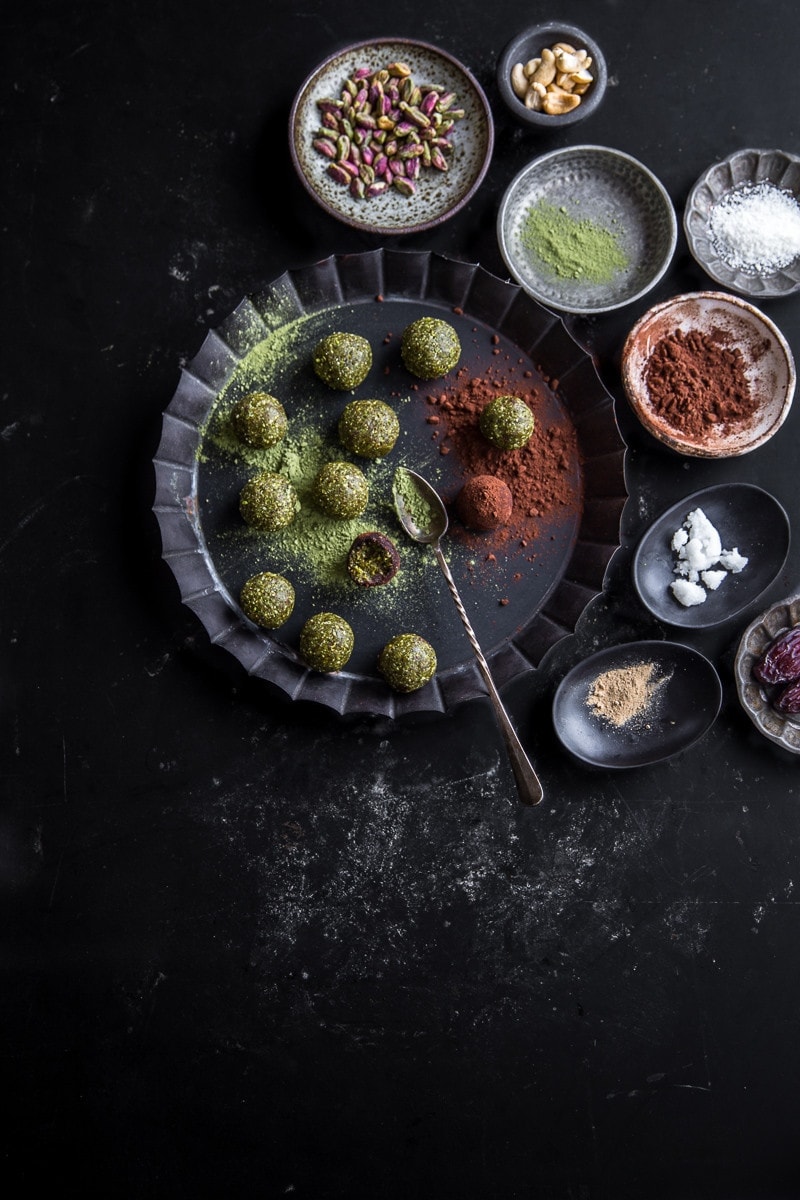 The mix is gorgeous and green with all the matcha goodness, it is perfectly pliable and could be set in a tray and cut into bars or even cookie shapes. The snack balls could be naked or dressed up for a night time tryst on the couch in a smattering of raw cacao powder. The biggest bonus is that one little ball fills you up and leaves you satisfied so you are not constantly munching until your next meal. This recipe is a good thing. And you can never have too much of a good thing.
AND I actually did a white shoot initially. But then really felt moody and dark so shot it again (story of my life!). But here is the white look for your viewing pleasure.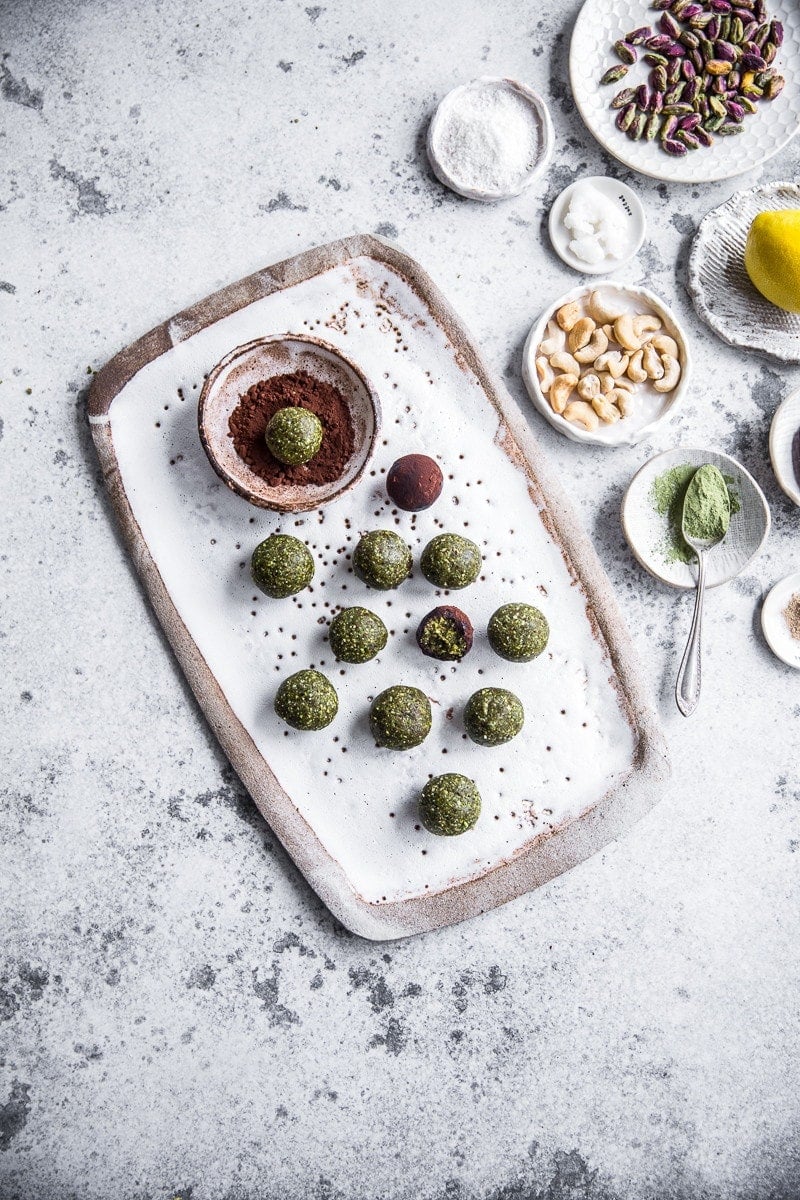 Made these Pistachio Matcha Snack Balls? Share them with me #cookrepublic. Also don't forget to leave your feedback/rating in the comments below. Thanks lovelies! x
Recipe
Hungry For More Recipes? Subscribe to my newsletter. Check out Facebook, Instagram and Pinterest to see everything I share! And if you love cooking and new cookbooks, join my free Cooking Club on Facebook!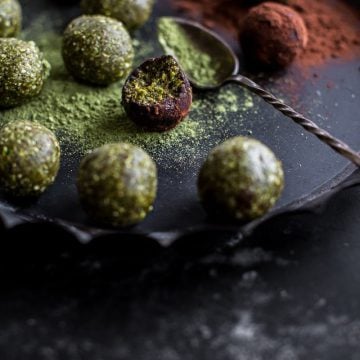 Ingredients
1/2

cup

(

75

g

)

raw cashew nuts

1/2

cup

(

70

g

)

raw pistachios

8

(

140

g

)

Medjool dates

,

pitted

2

teaspoons

matcha powder

1/4

teaspoon

ground cardamom

1

tablespoon

extra virgin coconut oil

1

tablespoon

grated lemon rind

2

tablespoons

(

14

g

)

desiccated coconut

pinch

of salt

raw cacao powder

,

or cocoa powder to dust (optional)
Instructions
Place all ingredients (except cacao powder) in the small bowl of a food processor.

Process to a coarse or fine consistency, based on preference.

Roll into balls. You can optionally roll the balls in cacao powder for a chocolate coating.

Energy balls will keep in an air tight container in a cool part of your kitchen for up to 4 days.
Did you make my recipe?
I'd love to hear how you went! Tag me on Instagram @cookrepublic