This makes a very good snack. A Raw Vegan Chocolate Nut Bar with lots of fiber, healthy fats, and natural sugars. The best part about this chocolate nut bar is that it is a 5-minute mix and set job. There is absolutely no cooking required which means, it can very well work into your meal prep plan.
I am not rigid about the vegan aspect of this bar. I will use vegan chocolate if I have it on hand, otherwise dark or chocolate works just fine (Dark chocolate is usually always vegan. Always check labels if you want to be sure). Using a vegan chocolate bar means your treat becomes dairy free and thereby gentler on your tummy. I have a recipe for a simple homemade vegan chocolate coming up soon, so keep an eye out for it.
How amazing is almond butter? I can't believe that I only started using it about two years ago (it was only peanut butter before that!). But almond butter has an amazing depth of flavour that is hard to beat. I am quite addicted to it and have to have it on my toast every other day. You can see from the ingredients that this chocolate nut bar is almond heavy. And a super delicious way to get more almonds in you. Almonds are a powerhouse of health benefits. They are packed with protein, fiber, vitamin E (hello great skin!) and magnesium (goodbye aches and pains!). Almonds help reduce blood sugar, lower bad cholesterol, curb hunger and assist in weight regulation. Mum used to hand out almonds like candies every morning to my brother and me. And this chocolate nut bar is my version of continuing that family tradition.
This chocolate nut bar is an extension of a feel-good smoothie I often make when someone at home needs a pick-me-up. It has most of the ingredients from that smoothie and then some. It is perfect sweetness wise and a tad on the richer side, so a little piece should be enough to satisfy your cravings. Goes down a treat with a cup of coffee or a rerun on Netflix. And if you are good with portions and rationing, this quantity should last you a couple of weeks.
If you make it and love it, let me know what you think in the ratings and comments below. As always, please share your creations with me on Instagram by tagging me @cookrepublic #cookrepublic. I love to see what you cook from the blog. Cheers! x
Recipe
Hungry For More Recipes? Subscribe to my newsletter. Check out Facebook, Instagram and Pinterest to see everything I share! And if you love cooking and new cookbooks, join my free Cooking Club on Facebook!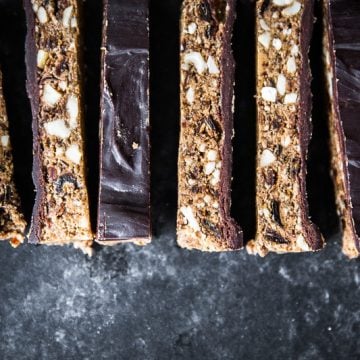 Ingredients
18

pitted dates

,

finely chopped

3/4

cup

almond butter

1/4

cup

peanut butter

1/4

cup

desiccated coconut

1/4

cup

toasted salted peanuts

,

finely chopped

1/4

cups

toasted almonds

,

finely chopped

1/4

cup

almond meal

1

tablespoon

flax meal

1

teaspoon

vanilla powder/extract

180

g

vegan chocolate

,

melted
Instructions
Place dates, almond butter, peanut butter, coconut, toasted peanuts, toasted almonds, almond meal, flax meal and vanilla in a medium bowl. Mix until thoroughly combined.

Grease and line a 20cm X 10cm base measurement loaf tin with baking paper, ensuring that it hangs over the longer edges.

Scoop the batter into the prepared tin and spread it evenly with a metal spoon. Smooth the top.

Pour the melted chocolate over the nut bar batter. Smooth the top.

Chill in the refrigerator for at least an hour before slicing into thin bars. Store covered in the refrigerator for up to a month. Bars can be individually wrapped in baking paper, stored in airtight containers and frozen in the freezer for up to three months.
Nutrition
Calories:
441
kcal
|
Carbohydrates:
51
g
|
Protein:
10
g
|
Fat:
26
g
|
Saturated Fat:
7
g
|
Polyunsaturated Fat:
5
g
|
Monounsaturated Fat:
10
g
|
Trans Fat:
0.001
g
|
Sodium:
46
mg
|
Potassium:
549
mg
|
Fiber:
8
g
|
Sugar:
39
g
|
Vitamin A:
65
IU
|
Vitamin C:
0.04
mg
|
Calcium:
141
mg
|
Iron:
3
mg
Did you make my recipe?
I'd love to hear how you went! Tag me on Instagram @cookrepublic
One Year Ago - Roasted Cauliflower Nasi Goreng / Indonesian Fried Rice
Two Years Ago - Peach Grape And Thyme Galette
Three Years Ago - Kale Paneer
Four Years Ago - Wholemeal Spaghetti Salad With Garlic Almond And Herb Crumb
Five Years Ago - Strawberry Coconut Muffins With Chia Seeds
Six Years Ago - Beetroot Leaf And Yoghurt Gozleme
Seven Years Ago - Apricot Fig And Goji Berry Powerballs