Welcome to meal prep session 23. With kids back to school, early morning starts, lunchboxes to be packed, after school snacks required amidst zoom calls and photoshoots, I have put together a meal prep session that goes the extra mile - recipes that are good for Spring/Summer, highly mobile and ones that provide good nourishment when you are short on time but need it the most! Quick Breakfast & Lunchbox Recipes! This two and half hour session preps and cooks 8 full recipes. So let's begin.
Sneh x
---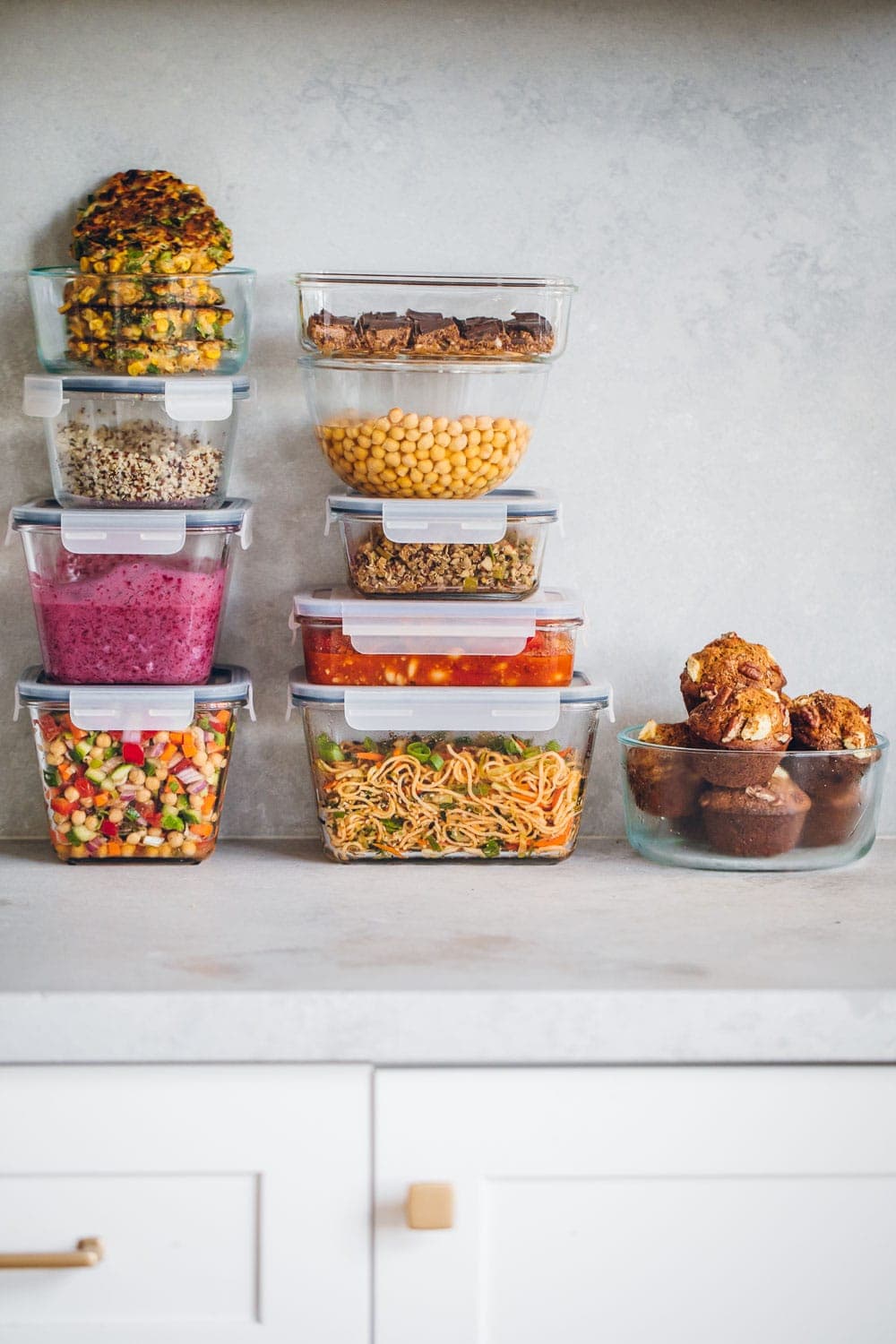 Weather is in between Spring and Summer (and often yo yos back to late winter) here in Sydney. Which means meal planning is all over the place. Too warm for curries, but too soon for cold salads and fiery Mexican food that can be guzzled down with a cold drink in the hot afternoon sun.
Plus, boys are back to school this week which posed a new set of challenges. Firstly, I forgot to pack them lunch on the first day and realized 5 minutes before they were about to leave. Guess what saved my day? Meal Prep things sitting in the fridge, oh yes! I warmed two of the fritters, wrapped them in baking paper and then foil. Added a container of the chickpea salad, packed a muffin each, some cheese and crackers, a cucumber, a banana and a tub of yoghurt. Done! In literally 5 minutes!
So that is the theme for this week's meal prep. Quick cooked and prepped things that become a light lunch or a breakfast on the go in a split second. The older boy is now in HSC and wakes up at 5, so having some breakfast ready that can either be eaten cold or warmed in the microwave is super handy. With having to drive the kids to and back from school (not taking public transport just yet), all that extra prep in the fridge is a Godsend!
RECIPES PREPPED (8)
ZUCCHINI CORN FRITTERS (vegan/ gf friendly)
GINGER SOY TOMATO NOODLES (vegan)
MUSHROOM SAN CHOY BOW (vegan/ gf)
CHICKPEA CHAAT SALAD (vegan/ gf)
PIZZA BEANS (vegan / gf) 
RAW CHOCOLATE NUT BAR (vegan / gf)
prep - cooked quinoa, soaked cooked chickpeas
What To Use Cooked Quinoa & Chickpeas For??
I. cooked quinoa // Besides using it in the Mushroom San Choy Bow and adding it to boost your "this and that" bowls at mealtimes, these are some of the things you can add to quinoa this month!
II. cooked chickpeas // Cover dry chickpeas in boiling water and soak them for 24 hours. At this point, they are good enough to snack on as is. They have a beautiful crunch. To cook them, add them to a pot of boiling water with a couple of bay leaves. Cook them in the boiling water for 10 minutes on high, then reduce heat to low, cover and simmer for 1-2 hours until they are tender. They are now ready to be mashed or cooked into curries. Here are some things you can make
---
legend /  serving suggestions
Pizza Beans are just so damn tasty (can't wait to share the recipe with you next week!). Great on sourdough. Add half an avo or a poached egg for a robust meal. Stuff in bread and make a grilled jaffle sandwich.
Eat Noodles as is, serve a grilled piece of protein on the side. Or make Wok Omelettes (in my blog story) and wrap your noodles in them, top with fresh chopped Asian greens and sauce. Yum!
Corn fritters are big enough to make a nice burger stuffed in a bun with all good things - mayo, salsa verde, sliced beetroot, tomato relish, smoked salmon, mustard and onion!
Mushroom San Choy Bow is amazing with everyday fried rice or loaded on top of these chilli garlic potatoes.

Meal Prep Session 23 - Quick Breakfast & Lunchbox Recipes
Things To Do This Week (Friday & Saturday)
1. Print out all the recipes you plan to cook
2. Make a shopping list of things you don't already have and buy them before the weekend.
WEEKEND SUNDAY MEAL PREP SESSION
Duration - 2.5 hours
>> Before you begin, get a large plastic/enamel tub to catch all your scraps and rubbish (multiples if you are saving scraps for chooks/compost). I cannot stress how much time you will save and keep the bench tidy if you are not going to the rubbish bin every few minutes.
Part I 
1. Pre-heat oven to 190°C. Put on a pot of water to boil for the noodles. Put on a kettle of water to boil to soak chickpeas. (2 minutes)
2. Rinse and put on a pot of quinoa to cook. (2 minutes)
3. Chop mushrooms and spring onions for the San Choy Bow. (10 minutes)
4. Chop ginger, carrot, cabbage, zucchini and spring onion for the noodles (10 minutes)
5. Add noodles to the boiling water, cook for a couple of minutes, rinse and drain and set aside (5 minutes)
6. Gather ingredients and mix batter for the Hummingbird Muffins (10 minutes)
7. Fill muffin holes with batter and bake Hummingbird Muffins (5 minutes)
8. Add boiling water to chickpeas and soak them overnight.
Pack away cooked quinoa.
Active Time -  45 minutes
BREAK 10 minutes - Time for a break. Make yourself a cup of tea/coffee or pour a glass of wine. I like to load the dishwasher, put away ingredient jars and wipe down the counter at this point to reduce my work later. 
Part II 
9. Gather sauce ingredients for San Choy Bow and Ginger-Soy Tomato Noodles (5 minutes)
10. Stir Fry and make Mushroom San Choy Bow (5 minutes)
11. Make Ginger Soy Tomato Noodles (5 minutes)
12. Bring muffins out of the oven and set them aside to cool (2 minutes)
13. Make Blackberry Overnight Oats (5 minutes)
14. Chop veggies for Chickpea Chaat Salad and make the dressing. Mix and prep the salad completely or store veggies and dressing separately. (10 minutes)
Pack away noodles, san choy bow, muffins, overnight oats and salad.
Active Time -  32 minutes
BREAK 10 minutes - Time for another break. Refill your cuppa or glass. Stretch, step outside, walk around for 5 minutes.
Part III 
15. Chop and add some chocolate to a double boiler to melt. (5 Minutes)
16. Gather, mix and set all ingredients for Raw Chocolate Nut Bar in a loaf tin. Drizzle with melted chocolate and put in the fridge to set. (10 Minutes)
17. Mix the fritter batter (5 Minutes)
18. Gather all ingredients for Pizza Beans and start making the marinara sauce base. (5 Minutes)
19. Make Zucchini Corn Fritters (10 Minutes)
20. Make Pizza Beans (10 Minutes)
Pack away chocolate nut bar, fritters and pizza beans.
Active Time -  45 minutes
FINAL CLEANUP - Have a long drink of chilled water. Meal Prep is thirsty work. Wash and wipe the last bit of the prep. Make a list of all the RECIPES you have cooked and allocate days to when you will use them up.
Well done guys!!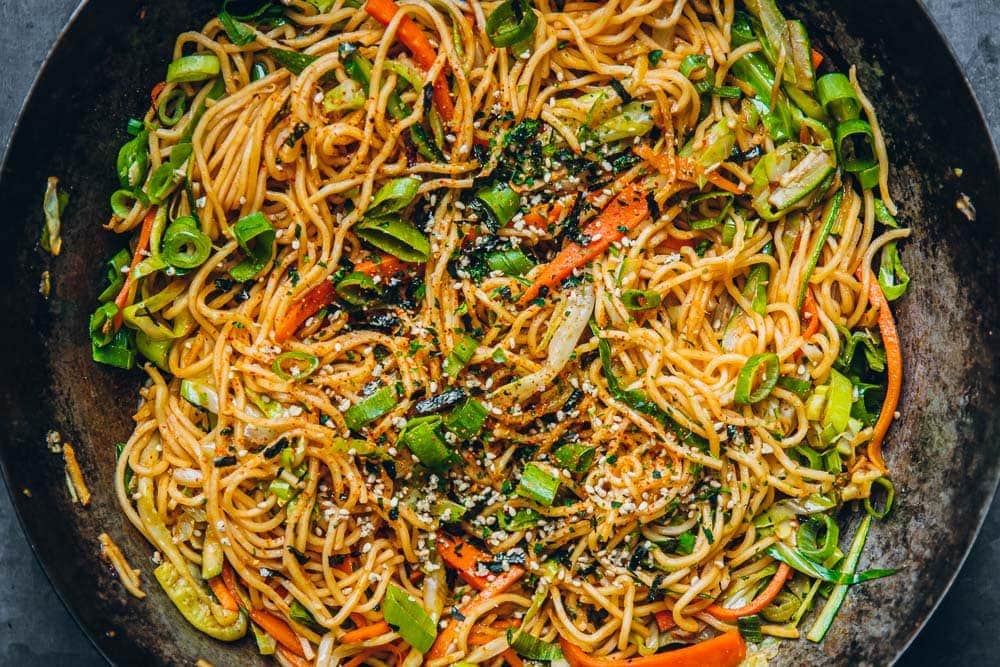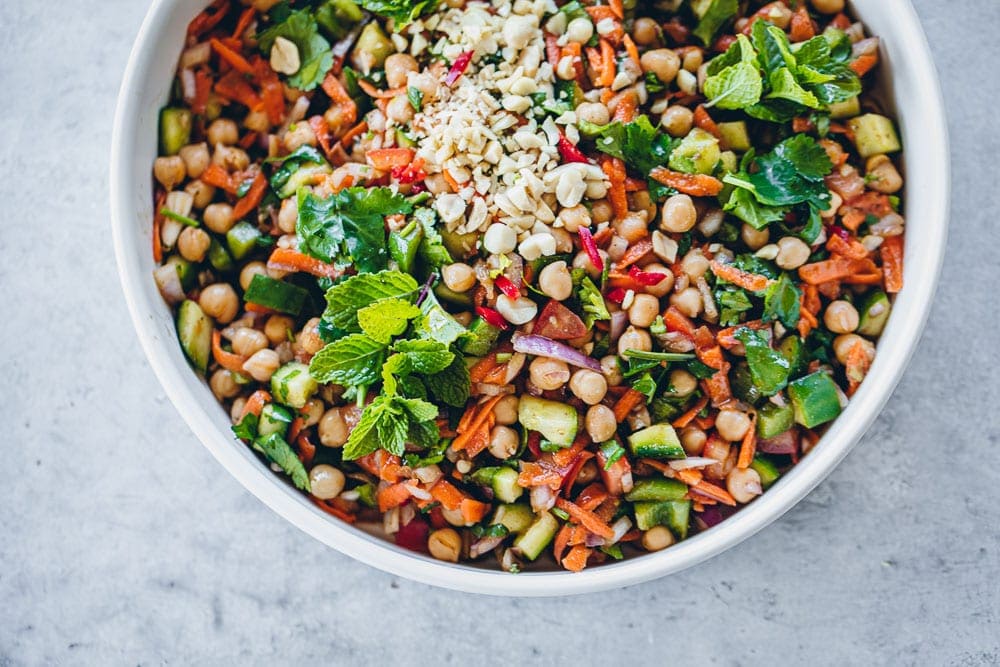 ---
---
" ...I was not prepared for the feel of the noodles in my mouth, or the purity of the taste. I had been in Japan for almost a month, but I had never experienced anything like this. The noodles quivered as if they were alive, and leapt into my mouth where they vibrated as if playing inaudible music.
~  Ruth Reichl