These delightfully easy, one-bowl chocolate chip cookies are delicious and highly addictive. Made more wholesome with a spelt flour base, dark chocolate, unrefined sugar and flecks of sea salt; this cookie recipe is the only one you will ever need! It is the MOST baked chocolate chip cookie recipe on my blog.
I bake these incredible chocolate chip cookies once a month. And the boys love me for it. This recipe makes a small batch which is about 28 to 30 generous-sized cookies. It makes it the ideal quantity to fill up my cookie jar or to take to a bake sale. Although I try to only eat these tahini cookies or these healthy chocolate cookies, I really do love these utterly more-ish and hard-to-stop-at-one cookies. The original recipe comes from Tara O'Brady and she talks about her basic chocolate chip cookies at great length in her cookbook Seven Spoons. Over the years after I first baked those cookies, I have modified the original recipe to include whole ingredients and reduce the sugar content.
Chocolate chip cookies are the ultimate temperamental divas of the baking world. There are so many of them out there and each professes to be the best. And each of those chocolate chip cookies is delicate to a fault. Too much sugar and they crisp and burn, too much butter and they melt into flat puddles, cold dough makes them stodgy and not cooling them on wire racks gives them wet feet. It is true, you have to handle chocolate chip cookies with care. But once you figure out the perfect set of steps, you will be baking the best-tasting batch of cookies in no time.
My cookie adaptation includes spelt flour instead of regular flour and unrefined sugar instead of regular sugar. Unrefined sugar is a non-negotiable in my baking repertoire. It is hard to beat that rustic, caramel flavour and it also digests and metabolizes much better. I always use spelt flour instead of plain refined flour. Spelt is an ancient grain similar to wheat and has a nutritional profile very close to wheat. But unlike wheat, spelt has slightly more minerals like manganese, copper and zinc. There isn't a big difference between spelt and whole wheat but I love the rustic wholesome quality wholemeal spelt imparts to my baked treats.
I have baked this recipe more than a dozen times and I always improvise with what I have on hand (see notes). And the end result is always a very delicious batch of cookies. Having said that, I urge you to please read the instructions and the notes carefully before you bake these as not following instructions properly can lead to very different results even with the same quantity of ingredients (as I learned the hard way!). And I want you to taste that perfect caramel chocolate chip cookie flecked with salt that is so utterly addictive.
---
Helpful Tips For Baking Perfect Chocolate Chip Cookies
Pay heed to oven temperature instructions for convection and fan-forced.
Use medium-sized eggs (not large!)
Do not overmix the dough AND do not chill dough for more than 5 minutes (if you are chilling at all!)
Space cookies out well (3 inches at least) on the tray as they flatten and spread a fair bit.
Bake for 10-12 minutes (12 minutes works best for me!) and remove from the oven immediately. Leave cookies on the hot tray for a maximum of 1 minute if at all before transferring to a wire rack to cool completely.
Bake one tray at a time.
Use a cold tray before each bake.
---
And try not to be psyched out by all the instructions as your cookies will be fine (it is hard to burn or mess up a batch at just 12 minutes) and you will be fine too! Now go bake some cookies and enjoy with a glass of cold milk (whatever you prefer - I have tried with chilled spiced coconut coffee, iced matcha milk, chilled date cashew milk, just chilled plain old cow's milk and a good cup of coffee and the cookie is pretty fantastic with them all!) xx
Recipe
Hungry For More Recipes? Subscribe to my newsletter. Check out Facebook, Instagram and Pinterest to see everything I share! And if you love cooking and new cookbooks, join my free Cooking Club on Facebook!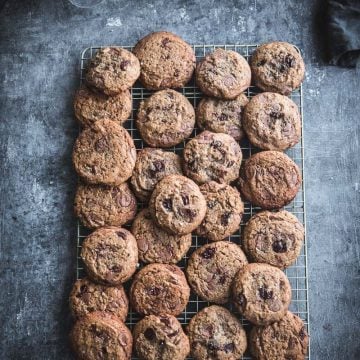 Ingredients
225

g

unsalted butter

,

melted and cooled

3 1/4

cups

(

420

g

)

wholemeal spelt flour

1 1/2

teaspoons

baking powder

1

teaspoon

sea salt flakes

1

cup

(

160

g

)

unrefined rapadura sugar

1/4

cup

(

55

g

)

granulated raw sugar

2

eggs

2

teaspoons

vanilla extract

300

g

chopped dark chocolate

,

(or dark chocolate chips)

sea salt flakes

,

for sprinkling
Instructions
Pre-heat oven to 180°C (convention)/ 160°C (fan-forced/convection). Line 2 large baking sheets with baking paper.

Melt butter in a small heavy-bottomed saucepan on low heat. This will take a few minutes, so make sure you are stirring the butter constantly. Make sure the heat is really low to avoid the butter from browning. (Alternatively, melt butter in a heatproof dish in the microwave at half power for 2 minutes).

In a medium mixing bowl, place the flour, baking powder and salt. Toss gently to combine.

Pour the melted butter in a large bowl. Add the sugar and whisk with a balloon whisk until pale and creamy. Add the eggs and vanilla and whisk briefly until eggs are just combined and mixture is smooth.

Add the dry mixture to the wet mixture. Using a wooden spoon or silicone spatula, mix until just combined. Add the chocolate chips and fold briefly, drawing from bottom to top until the cookie batter is just evenly mixed and no dry flour bits remain. Do not overmix.

If it is a warm day and the dough looks too soft, glossy or sticky; refrigerate it for 5 minutes to slightly firm up the dough.

Using a cookie/ice cream scoop (1 to 1 1/2 tablespoons), drop cookie dough balls on the prepared baking sheet. Make sure they are at least 3 inches apart.

Sprinkle cookie balls with sea salt flakes. Very gently press the top of the cookie balls with your fingers to flatten the top.

Bake in the pre-heated oven for approximately 10-12 minutes (I bake for 12 minutes!). If your oven is smaller, rotate the pan halfway through this baking period to ensure even browning of the cookies.

Remove from the oven. Leave the cookies on the baking sheet for another minute or two and then transfer them onto a wire rack to cool completely.

Store cooled cookies in an air tight container in a cool part of your kitchen for up to 7 days.
Notes
I like to bake the cookies, one sheet at a time (even though my oven is 90cm long and can easily accommodate 2 sheets). This ensures even cooking.
If you have a smaller oven, you will need to bake multiple times. Make sure you start your bake with a cool sheet every time.
The cookie scoop and press method produces that beautiful crinkle edged cookie shape. If you don't have a cookie scoop, you can roll 2 tablespoons of the dough into a ball, place it on the tray and press to flatten it for each cookie.
Spelt flour can be substituted for plain flour or half plain and half spelt flour.
I often like to mix up my chocolate bits - 100g milk chocolate and 200g dark chocolate (like in the cookies pictured here). But my favourite is good quality all dark chocolate roughly chopped, so each cookie has different sized chocolate shards. Lindt 70% cocoa or dessert chocolate is a great one for this recipe.
Rapadura sugar is unrefined palm sugar. It looks similar to brown sugar, just more rustic. It has a deep caramel flavour. If you can't find rapadura sugar, just substitute with coconut sugar or brown sugar. The addition of granulated sugar introduces a lovely texture to the cookies.
Cookie dough can be rolled in parchment paper and then sealed in freezer bags in the freezer for up to two months. Bring frozen dough to room temperature before baking.
Did you make my recipe?
I'd love to hear how you went! Tag me on Instagram @cookrepublic
One Year Ago - RAINBOW VEGGIE COCONUT DAAL
Two Years Ago - FRESH CRISPY SALMON BURRITO BOWLS
Three Years Ago - BAILEYS SALTED DARK CHOCOLATE PANNA COTTA
Four Years Ago - RED HOT CHICKEN AND FRIED CHEESE MEATBALLS
Five Years Ago - CHARRED BROCCOLI MEXICAN SALAD
Six Years Ago - TOFU MISO RAMEN BURGER
Seven Years Ago - NOODLECAKES
Eight Years Ago - ALOO MATAR (INDIAN POTATO AND PEA CURRY)
Nine Years Ago - APPLE FRITTER DONUTS